Welcome
Houston Spaceport is an FAA-licensed, urban commercial spaceport offering unprecedented access to a thriving aerospace community. In addition to serving as a launch and landing site for suborbital, reusable launch vehicles, Houston Spaceport offers laboratory office space including technology incubator space and large-scale hardware production facilities.
Real Community
As a center for collaboration and innovation, Houston Spaceport is unique among the other federally licensed spaceports. It lies in Houston, Texas — the country's fourth-largest city and a major hub for aerospace and aviation activities. Literally, no other commercial spaceport is located in a city larger than Houston, Texas
Real Development
In addition to improving existing facilities and services, the Spaceport continues to find new and groundbreaking ways to increase value for tenants and partners and to change fundamentally what it means to be a resident business in an American spaceport.
Real Innovation
Innovation lives at the very heart of aerospace. Partnering with NASA and key universities has always been integral to Houston Spaceport's long-term vision of commercial aerospace leadership
Real Vision
As a launch and landing site for suborbital, reusable launch vehicles as well as a center for innovation, the Spaceport offers a number of attractive leasing opportunities.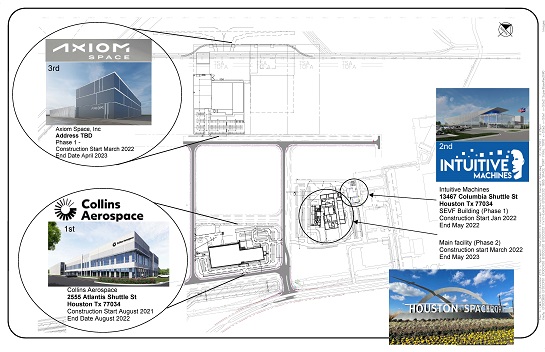 Recent News
Collins Aerospace opens new facility at the Houston Spaceport to support future space exploration
Collins Aerospace inaugurated, Aug. 31, 2022, a new 120,000 square-foot facility located at the Houston Spaceport. An anchor tenant at the Houston Airport System's newly-created space hub, Collins will transition its current local operations to the new site, further advancing its space exploration programs. 
NASA Selects Houston Spaceport Tenants to Develop Next Generation Spacesuits and Spacewalk Systems
It is immensely gratifying to see two of Houston Spaceport's major tenants selected to produce NASA's next generation spacesuit and spacewalk systems for the agency's future Artemis lunar missions and work outside the International Space Station. 
Axiom Space Breaks Ground on New Headquarters and Space Station Production Facility at Houston Spaceport
The future of low-Earth orbit and human spaceflight in Space City, has a new base of operations as Axiom Space breaks ground on a new state-of-the-art headquarters in Houston. 
Three new facilities are coming to the Houston Spaceport. See photos of their progress
Three new facilities are under construction at the Houston Spaceport, a promising step toward the city's 2015 commitment to transform Ellington Airport into a hub for space activity.