Passenger Numbers at Houston Airports Expected to Increase 40% over 2021 Spring Break
Prepare for This Busy Travel Season and Carefully Plan Your Trip to the Airport 
March 6, 2022
HOUSTON – As millions of people prepare for a spring break getaway across the U.S, Houston Airports projects that more than 1.76 million passengers will fly through George Bush Intercontinental Airport, IAH, and William P. Hobby Airport, HOU, during the 11-day period between Thursday, March 10, and Sunday, March 20. That is an increase of more than 492,000 passengers over the spring break in 2021 – nearly a 40% rise. Passenger traffic numbers are still below pre COVID-19 pandemic levels for this period by 12% - approximately 236,000 fewer passengers than in 2019. 
HOU is expected to welcome an estimated 440,000 passengers, while IAH will serve approximately 1.32 million this spring break. Houston Airports is asking passengers to prepare for this busy travel season and carefully plan their trip to the airport, especially at IAH, as major improvements are happening at the big airport. 
Construction at IAH will allow for the development of a new world-class international terminal. As the projects move forward on time and within budget, there is currently roadway construction that will impact traffic congestion, mainly during morning and afternoon peak travel times. As we work to minimize the impact on the traveling public, we ask passengers and their families to follow these important recommendations to ease traffic delays, reduce roadway congestion and enhance the passenger airport experience: 
Arriving at the Airport – Parking and Drop-off 
Please build in an extra hour to your arrival time so you can comfortably get to your gate on time. 

Plan ahead and reserve parking online at IAH and HOU. It's the easiest way to guarantee a parking spot at the Terminal garages or ecopark locations. You can pre-book, adjust and even make valet reservations at  fly2houston.com.   

Anticipate high parking volumes at the Terminal garages. Please allow yourself extra time to find a parking space, and if necessary navigate to another parking location if your first parking choice is full. We strongly recommend making a reservation online to ensure you have a parking space.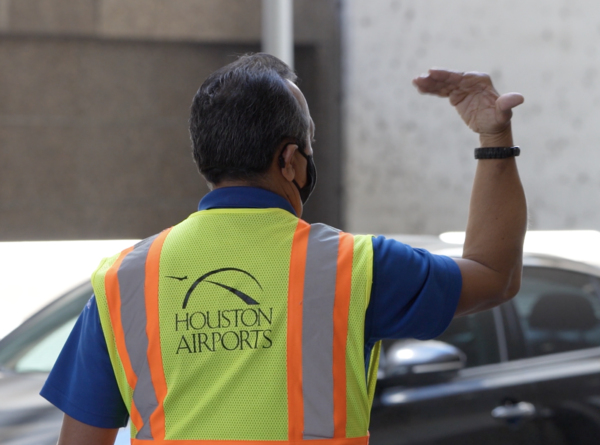 Picking up Passengers at the Curbside 
People picking up passengers at curbsides should wait at the cell phone lots until the arriving passenger has gone through baggage claim and is ready at the curbside for pickup. Learn more about cellphone lots at Bush Airport  here. Learn more about cellphone lots at Hobby Airport  here. 

Do not park at the curbside to wait for your passenger. Idle vehicles create congestion at the curbside and back up traffic.
 

Follow roadway signage. Things are changing at IAH. Whether you have been to the airport dozens of times or are a newcomer, please slow down and read the roadway signs. You can get where you need to be by following our signage. 

Pay attention to staff directing traffic. They are there for everyone's safety. 
TSA Checkpoints 
Passengers can monitor TSA checkpoint wait times in real-time. For Hobby Airport,  click here and for Bush Airport,  click here. 

Follow the 3-1-1 rule with regard to liquids in your carry-on bag.  

Visit the TSA website for a list of prohibited items and additional travel tips. 
Come Early and Relax a Little 
Houston Airports has plenty of amenities to help enhance the passenger experience before a flight. Harmony in the Air is a live performing arts program featuring some of Houston's best musical talent. Concessions are open, and passengers can enjoy shops and restaurants featuring local favorites and exciting brands. In addition, both Bush and Hobby airports have play areas for children to unwind while they wait for the flight. 
 Facial coverings are required at the airports, regardless of vaccination status, per the CDC. 
Houston Airports continues to perform enhanced cleanings at all high touch point areas at Bush and Hobby airports 
Passengers can also get airport updates by following the Houston Airports Twitter accounts @IAH and @HobbyAirport or Facebook profiles @BushAirport and @HobbyHou